Couples counseling may conjure up images of in-person therapy sessions at a regular counseling center. Some couples choose not to seek marriage counseling when in-office therapy sessions are the only choice. Their apprehension about disclosing personal information to a stranger in an office building is due to their apprehension.
Couples seeking the benefits of marriage counseling without the burden of typical in-office therapy sessions now have other options. Thanks to online marriage counseling, today's couples can participate in marriage counseling and therapy sessions from wherever they are in the world.
Online couples therapy is a viable solution for couples because it allows them to get the support they need through online marriage counseling programs. When couples seek marriage counseling online, they can look for a therapist in the privacy and security of their own home.
Below are some of the benefits of online couples therapy:
Benefits Of Online Couples Therapy Services
Both partners in a relationship are usually the source of conflict. These conflicts will continue to explode without an end until they find support. Getting help from an online couple therapist specializing in communication skills and mediation could be beneficial.
1) Online Relationship Counseling is Easily Accessible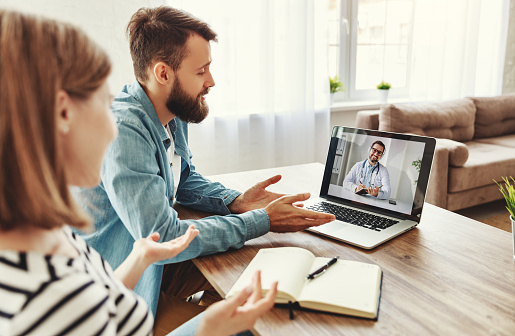 When couples are looking for a counselor, the most common concern is that they will be too far away. You won't have to worry about the health of your relationship or marriage because online relationship therapy services are more available today.
Find an excellent online couple therapy provider, register, and you'll have access to all of the site's features and services. Jan Rakoff, LCSW, provides great marriage counseling services in San Diego and virtually.
Jan's online therapy services offer everything from scheduling a regular online consultation to engaging in group therapy sessions and couples therapy online advice. The best part of online therapy is that you have access to invaluable resources at the click of a button.
2) Online Marriage Therapy is Convenient
Being able to do marriage therapy from the comfort of your own home is a massive benefit.
Through online counseling, you can save money because you dont have to leave your house. Besides, it may provide more privacy because you do it from home. You only need to sit on the couch with your spouse and log into your scheduled appointment with your online therapist.
When you consult licensed professional counselors, you gain access to so much information. Additionally, it is advantageous since you have access to internet therapy at any time. You only need a computer, laptop, or tablet alongside a stable internet connection to get started.
3) Virtual Couples' Counseling is Comfortable
You can set up your surroundings to make your online session as comfortable as possible because you control it. Through virtual counseling, you can set the tone of your therapeutic assistance by adjusting lighting and sitting in a relaxed way.
Being at ease in your virtual therapy session and having a tailored experience will help you concentrate better on what you need to do. Not to forget helping improve the outcomes of the sessions.
5) Reduce Time Wastage Due to Cancellation
It is common to cancel scheduled visits in traditional therapy due to factors such as bad weather. As a result, having couples counseling online is beneficial because you will not miss sessions due to inclement weather or transportation. You can also undergo online couple counseling from the convenience of your own home.
7)  It's Ideal for Long-Distance Relationships
Couples in a long-distance relationship can benefit greatly from online marriage counseling.
Counselors can schedule video sessions with both husband and wife over the phone, allowing them to talk to each other and express their concerns while getting guidance from their therapist.
But, online therapy sessions can have better outcomes if both counselor and clients pull each other's weight. It's a collaboration effort, and couples can significantly help improve the sessions in several ways.
Tips
1) Schedule Dates when Free from Work & Family.
Setting a date for a counseling session is vital. If you're distracted during treatment, you're not providing your full attention to your spouse, which stops you from making actual progress and maintaining a healthy relationship.
It would be best to avoid distractions by switching off your phone, avoiding receiving phone calls, or silencing your phone while in counseling. During therapeutic sessions, giving your partner your undivided focus is extremely helpful.
2) Locate a Quiet, Private Location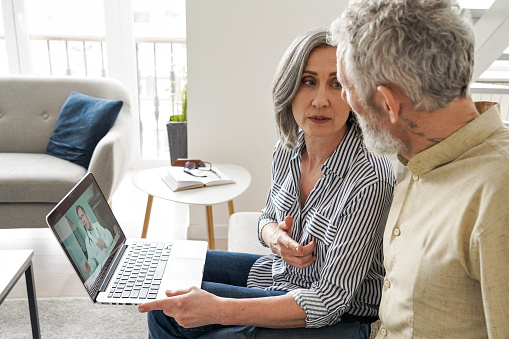 It's critical that you feel comfortable discussing complex topics and therapeutic approaches. As a result, you must choose a location in your home or business where you may speak with licensed therapists without being overheard.
Consider obtaining a sound machine or installing a sound machine app on your smartphone if you and your spouse reside in a home with children or other family members who may overhear you. It will blur the sound and prevent others from hearing you.
3) Check Your Internet connection
Couples counseling sessions must occasionally take place somewhere other than your home. However, make sure that your WI-FI connections are secure. It means that if you're using the internet in your automobile, be sure you have a strong enough signal to avoid being interrupted.
Nothing is more aggravating than having an emotional breakthrough and attempting a conflict resolution only to be hindered by a slow internet connection.
4) Schedule Sessions Without Interference From Kids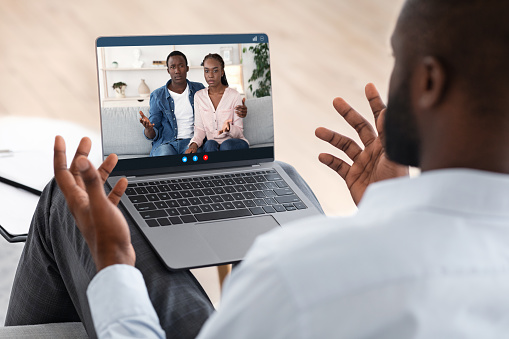 It's difficult to focus on your relationship issues with children around. Even in their later years,  it can be challenging to be open and vulnerable while your children are present and discuss adult matters.
It's challenging to be open and vulnerable while your children are present and discuss adult matters with your online counselor. It directs your attention away from your children and toward your partner or spouse. It would help locate a babysitter or schedule an online service session with your advanced clinician when your children are at school.
5) Ensure You're Comfortable
Your therapist and partner need your undivided attention. Although breaks are a necessary part of the process, it would be better to avoid calling for unnecessary breaks for the washroom other than the one provided. It would be the wrong timing to fight snack cravings.
6) Ensure You Express Yourself Verbally
If you're doing online therapy with your spouse and a clinician, you'll need to be detailed and convey your feelings.
Notably, it may be difficult for your online therapists to read your body language; therefore, you should learn to express your emotions during online treatment vocally.
7) Plan Early
Being blind-sighted by counseling may be pretty frustrating. It would help if you made sure both knew when the session would occur. A shared virtual calendar is a terrific method to ensure you're all ready. It will allow both of you to plan ahead of time and prepare for the session.
8) Be Open and Honest with Your Therapist
When one or both partners in a relationship don't tell the truth, it's difficult for your therapist to help. Be open with your therapist to know how to assist you.
9) Always Complete Your Couples Counseling Homework
Outside of the meetings, some couples counseling will demand additional work. You might be asked to fill out a detailed relationship questionnaire and have your communication skills put to the test. Completing these assignments is critical because you will learn new relationship skills and get more out of counseling if you put in the effort.
TAKE AWAY
Couples therapy or counseling is an effective and efficient way to overcome relationship challenges or prevent them. Don't wait until a significant problem arises to persuade your partner to see a therapist. Jan Rakoff is a licensed therapist who provides the best online services and has spent a substantial amount of time in San Diego, California, assisting couples in developing healthy relationships.
Do not hesitate to contact me for a free consultation. Our online couples counseling sessions also include video chats.